Custom Printed Newsletters/Bulletins
These custom high quality newsletters are printed in full color or black ink.
Newsletters are printed using high quality 24lb uncoated or 80lb coated papers in standard size of 8.5x11 or 11x17 (1/2 folded).
Complete your order form, upload your file and then submit. When we receive your file we will review it
and then invoice you through a secure link. Once payment is received your order will be scheduled for production.
The average newsletter takes between 5-8 working days to complete from your print ready file.
Our guidelines page is there if you need help setting up your booklet.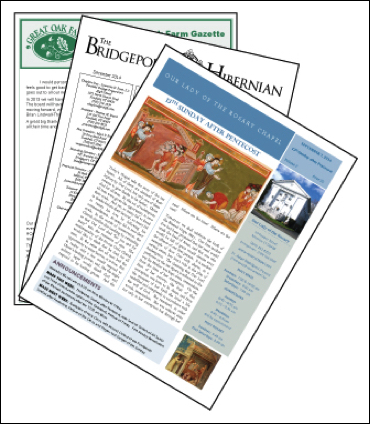 FULL COLOR, BLACK INK
OR BOTH!
WE BILL BLACK PAGES AT
A LOWER RATE
EVEN WHEN COMBINED
WITH COLOR PAGES!
ALL INCLUSIVE PRICING!
SADDLE OR CORNER STAPLING INCLUDED
1/2 FOLD INCLUDED
SHIPPING INCLUDED